Sunday Beats with Mark Moody
In the afternoon of 22 September, Popakademie artist Mark Moody will be on stage for the Sunday Beats, which take place from May to September in the bandshell in Herzogenriedpark.At home on stage, Mark Moody gives free rein to his boundless inspiration, especially with his classical and techno improvisations. His heart beats mainly for film music and contemporary piano music, but he is also inspired by pop and techno.Admission to the concert is free, only the park entrance fee of 3,50€ for adults is due. Children, students etc. receive a reduction.
Herzogenriedpark, Max-Joseph-Str. 64, 68169 Mannheim
Popakademie @ Stuzubi Düsseldorf
Am Samstag, dem 28. September 2019 sind wir auf der Messe Stuzubi in Düsseldorf. Komm vorbei und informiere dich über den Bachelor-Studiengang Musikbusiness.Universitäten, Hochschulen sowie bundesweit agierende und regionale Unternehmen und Institutionen informieren auf der Stuzubi über ihre Studien- und Ausbildungsangebote sowie Berufsperspektiven. Auch Anbieter für Auslandsaufenthalte und Freiwilligendienste, Abschlussarbeiten und Traineestellen sind auf der Messe vertreten.
Mitsubishi Electric Halle, Siegburger Str. 15, 40591 Düsseldorf
23 Oct
Work in Progress Club
Live & Laut concert @ Nachtwandel
Experience the current generation of the Bandpool and take a look behind the scenes of our newcomer program Bandpool. LIVE & LAUT! Admission to the concert is free!This year, for the 13th time, the Nachtwandel invites you to art, music amd culture in Mannheim's Jungbusch harbour district.
Popakademie, Raum 001
16 Nov
Anika Nilles at the World Drum Festival 2018
Save the date! For the fifth time, the Popakademie Baden-Württemberg will host the World Drum Festival on 16 November in cooperation with the Cultural Office of the City of Mannheim and the European Drum and Percussion Association Percussion Creativ. In workshops, clinics and concerts, internationally renowned percussionists will show what is currently happening in the global jazz and pop music scene.
Popakademie
Popakademie @ Einstieg in Munich
On Friday, 22 November and Saturday, 23 November 2019 we will be guests at the fair "Einstieg" in Munich. Come byand find out more about the Bachelor's programme in Music Business.
Friday: 9 a.m. to 4 p.m
Saturday: 10 a.m. to 4 p.m
MOC Veranstaltungscenter München, Lilienthalallee 40, 80939 München
Bandpool Application deadline
Until 30 November 2019 you can apply for the Popakademie's young talent promotion programme, the Bandpool. Be part of the next Bandpool generation and take part in the 18-month coaching program.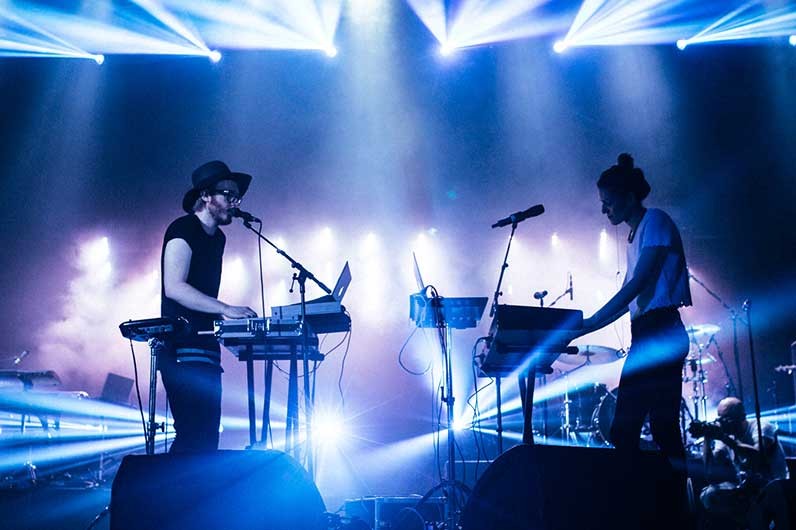 Beats & Sound of the producing students! The line-up of the Producers Club consists of students from the Pop Music Design bachelor's programme and the Popular Music master's programme with a focus on Producing/Composing Artist. Admission is free.
Popakademie, Raum 415
Work in Progress Club meets World Music Café
At the Work in Progress Club meets World Music Café concert, students from the Popular Music faculty present themselves live on stage. The evening's programme will be dominated by a colourful mixture of the two courses of study Pop Music Design and World Music. As always, drinks will be provided. Admission is free.
Popakademie, Raum 001
Final concert World Music B.A.
On Thursday, 13 February, the final concert of the semester will take place at the Popakademie with live examinations of students from the Bachelor's programme in World Music. Admission is free.
Popakademie, Raum 001
Final Concert Popular Music M.A.
At the end-of-semester concert on Friday, 14 February, students from the Popular Music Master's programme will be on stage. Admission is free.
Popakademie, Raum 001
15 Feb
Info Day - University of Popular Music and Music Business
On the 15th of February the open day of the Popakademie takes place from 15 o'clock. The information day offers lectures and information about studying at the Popakademie as well as student counselling of staff, lecturers and students.
The information day also provides insights into the project and competence areas of the Popakademie. In the evening, the semester-end concert of the pop music design students will take place.Program:
Consulting for the study courses Pop Music Design B.A., World Music B.A., Music Business B.A., Music and Creative Industries M.A. and Popular Music M.A.
Trial lectures with Prof. Hubert Wandjo & Prof. Udo Dahmen
major courses consulting Popmusikdesign B.A.: drums, producing, singing, keyboard, guitar, bass, music theory & composition
Information Centre World Music
Information Competence Center: Popular Music, Artist Agency Klinkt, Seminars & Continuing Education
Ab 15 Uhr, Einlass ab 14.30 Uhr
Final Concert Pop Music Design B.A.
Following the Open House in the Popakademie, the bachelor students of the pop music design course will present themselves at the end of the semester concert from 7 p.m. onwards. Admission is free.
Popakademie, Raum 001